Commitment of AOHIGE
Passion for Hiroshima food ingredients
First priority of our restaurant is locally-grown and locally-consumption principle,
and food ingredients to be used are carefully selected by our owner through tasting.
Let us show you our specialty including meat, seafood and local sake among our selection.
Use of Hiroshima Wagyu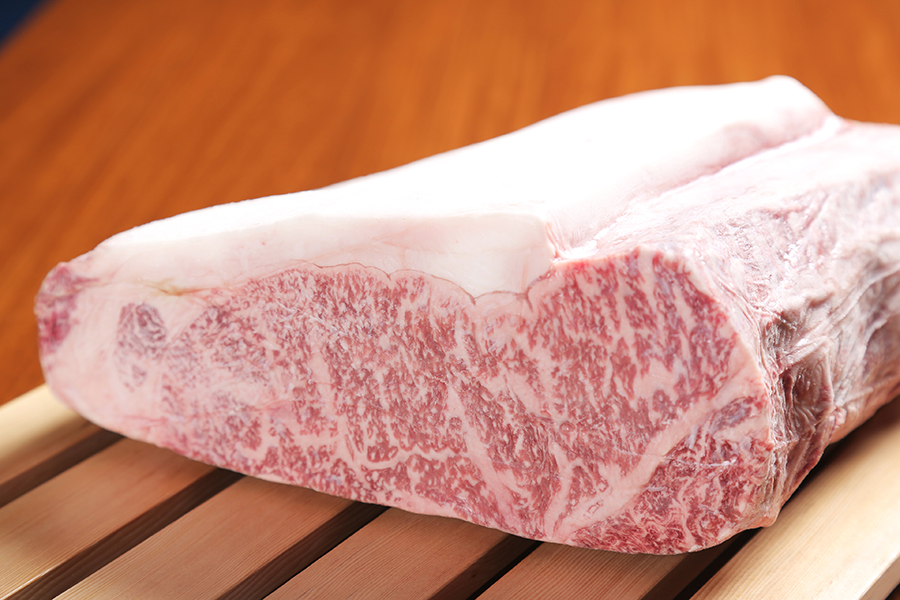 At our restaurant, we adhere to use of A4-ranked Hiroshima Wagyu.
One of the reasons we recom-mend it is its fat with refined taste.
Please come to our restaurant and try A4-ranked Hiroshima Wagyu that suits grown-ups with is modest softness and light-flavored fat, served in ambience of relaxing hideaway for grown-ups.
Parts to be served include rump, sirloin and fillet.
Setouchi seafood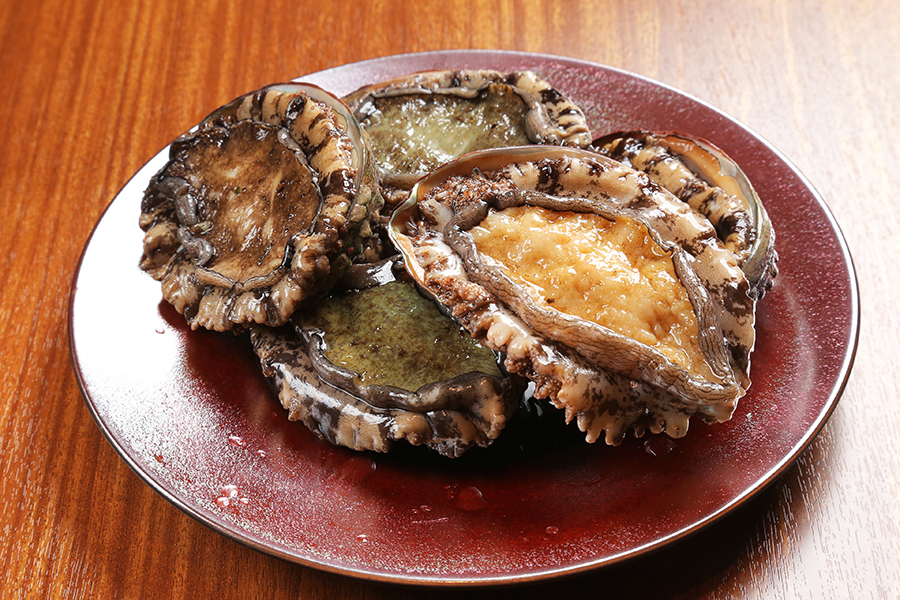 We are carefully selecting seafood to serve, including oyster, conger and lobster as well as meat.
Among our selection, abalone is specially recommended with its thickness, rich flavor with aroma of ocean and firm texture.
We are sure that you cannot stop eating once you try it.
Hope you try and taste it.
Hiroshima local sake
First priority of our restaurant is locally-grown and locally-consumption principle. Among drink menu, we specially recommend "Daigorei," long-established local sake from Kumano, hometown of our owner.
Many other brands of Hiroshima sake are also available, and we will recommend a dish that perfectly fits to each individual sake brand.
If you want to choose dishes first, we can recommend a sake brand that fits to each individual dish.
Feel free to ask for advice.
Passion for interior
Interior of our restaurant is carefully designed to fit to our owner's taste from top to bottom.
Relax and enjoy the sophisticated private ambience designed for grown-ups.
Japan's first large L-shaped griddle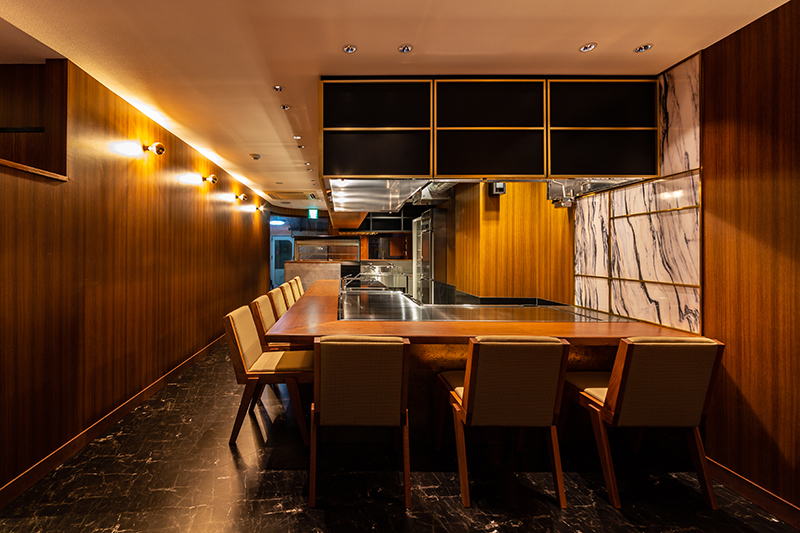 The first thing you will notice when you enter our restaurant will be a large, seamless L-shaped griddle that is really eye-catching.
We are the first restaurant to use this type of griddle made of special iron plate that could work as a part of large vessel. We are cooking all our dishes of Hiroshima specialty, other than okonomiyaki, on this griddle.
Choose seat type in accordance with your purpose. Entire restaurant can be booked as well.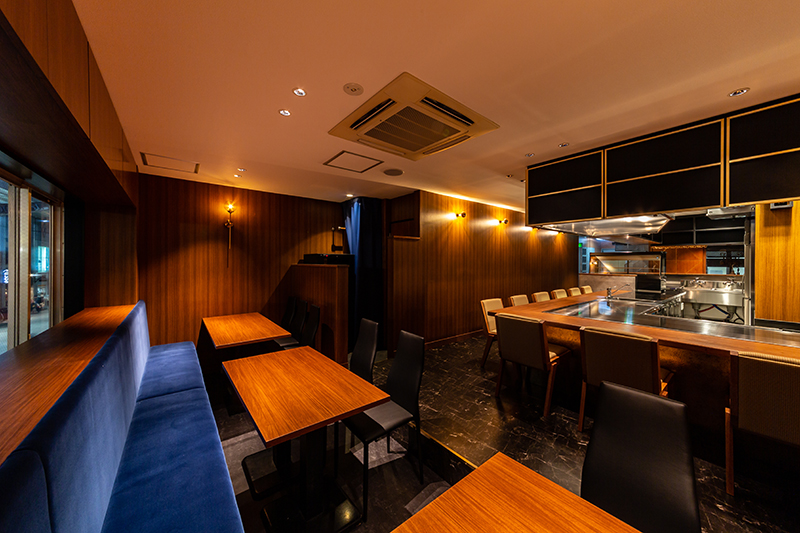 The sophisticated ambience of our restaurant is perfectly suitable for grown-ups to enjoy a relaxing time.
At counter seats, conversation with our owner will give you a bit of knowledge related with our dishes and secret sightseeing spots in Hiroshima. Table seats may fit to enjoy a big dinner with your family or friends.
You can book entire restaurant as well. Please feel free to contact us for further details.
Special wine cellar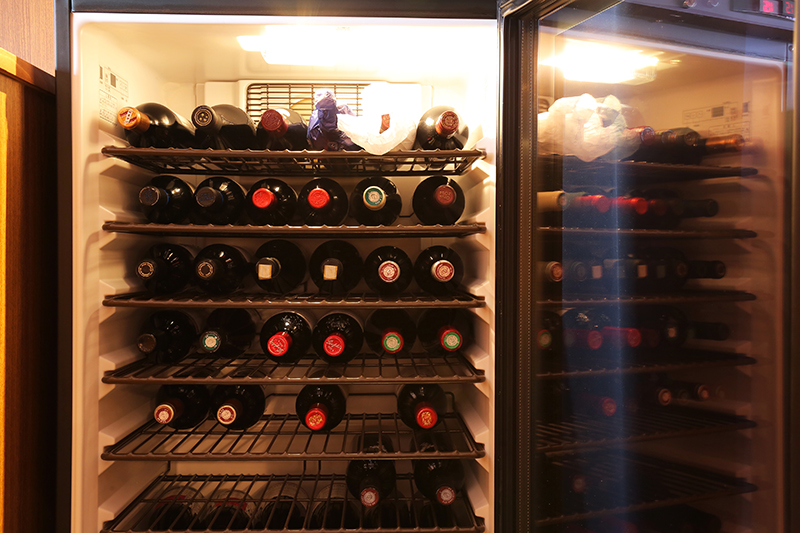 We have a huge wine cellar for our our size. When you are looking for wine that fits to your order, please ask for advice from our owner.
We pride ourselves on offering a carefully selected wine list through tast-ing of individual brand. We will recommend right option with confidence.
For further details of our owner,
who loves his home town Hiroshima from the heart and is passionate
about creating a good restaurant with excellent food ingredients and comfortable ambience.